Contact The Savory Vegetarian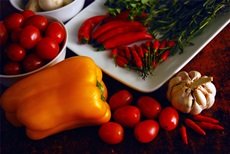 If you need anything at all, please feel free to contact us using the form at the bottom of this page.
Whether you're a newbie to the vegetarian world or a seasoned pro when it comes to planning and preparing meals The Savory Vegetarian wants to hear from you.
The lines of communication are open to all our visitors, and we enjoy hearing from each and every one of you.
Do you have...
Questions or comments about any of the information you read on our site?

Vegetarian friendly recipes you'd like to share with our readers?

Content suggestions or topics you would like to see covered?
Maybe you need...
Advice on how to get your picky eaters to try eating vegetarian cuisine.

A little help planning balanced healthy meals for you and your family.

More information about a balanced vegetarian diet and living without meat.

Help deciding what vegetarian lifestyle is best for you and your family.
Maybe you just want to send us a quick hello and let us know how you're doing.
Don't be shy! The only thing we love more than sharing our passion for vegetarian cooking and nutrition is hearing from our readers.
Take a Moment to Let us Know How We're Doing
Did you enjoy our site? Have you tried some of our recipes? Have you discovered some wonderful new foods to incorporate into your daily life? If so, we would love to hear about it.
All the long hours and hard work we've put into this site is for the benefit of our readers, and we absolutely love getting messages and updates from those who have benefited from our site. It makes all the difference in the world to know that we can or have helped you in some way.
Home | Contact The Savory Vegetarian