Delectably Easy Vegetarian Recipes
Discover lots of easy vegetarian recipes that will make your life easier and much, much tastier. This is where quick and easy meets savory and delicious.
We've got a growing selection of great vegetarian recipes that are quick, healthy, and super easy to prepare.
You'll find a little bit of everything here including easy vegged out burritos, ultimate nachos, super simple veggie sandwiches and burgers that will knock your socks off.
Cooking nutritious, meat free meals for your family should be the most effortless part of your day. These recipes will get you started preparing mouth-watering vegetarian meals in no time flat.
Browse the Latest Easy Vegetarian Recipes: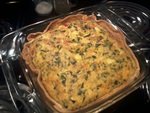 You've probably heard that it's good to make your plate colorful, right. Well this is a super tasty way to do it. It's packed with lots of colorful veggies and it turns out every bit as delicious and fluffy as it is beautiful.
---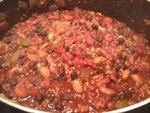 This is one of the best vegetarian chili recipes you will ever eat! It's simple and delicious and just as hearty and satisfying as any meat filled version. Serve with your favorite chili toppings and cornbread or crackers and you're all set.
---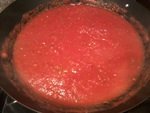 This semi-homemade vegetarian spaghetti sauce recipe will have your friends and family raving about how long you must have spent in the kitchen. Its quick and easy and way better than plain old store bought sauce.
---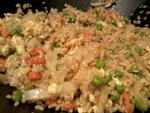 You have to try this quick and super easy vegetable fried rice recipe. This is our first real attempt at making authentic Asian fried rice and it is absolutely delicious. It takes a little more time than the typical stir-fry but it's well worth the effort.
---
This is a quick and simple version of one of our favorite hummus recipes... roasted red pepper. Whip up a big batch of this hummus in less than 15 minutes and your family will be snacking healthier a lot more often.
Need serving suggestions? Here are a couple of our favorite ways to eat hummus:
Spread it over a whole wheat bun or sub roll as a complement to a homemade veggie burger or fresh vegetable sandwich.

Pair it with crackers, pretzels or fresh vegetables as a delicious, healthy snack.
---
Forget canned soup! This creamy potato corn chowder is a much better way to stay warm and satisfied on those cold winter nights. Whip up a batch of this and serve it with homemade corn bread for a thick, hearty meal the whole family will devour.
---
You can't get more kid friendly than macaroni and cheese. This super easy mac and cheese casserole is a dish your family will love. It's deliciously cheesy, topped with a crunchy crust and you can have it on the table in under 45 minutes.
---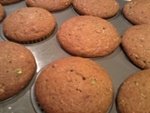 I absolutely love making zucchini muffins. They remind me of helping my grandmother in the kitchen when I was young and they are oh so delicious! What's not to love? Add in some a little extra protein and you've got the perfect little on the go breakfast or snack to take to work.
---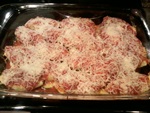 These are a bit of extra work because you have to stuff the shells when they're ready, but the finished dish is well worth the effort. These are so delicious you won't regret putting in the extra time.
---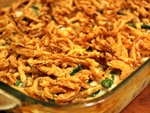 This is one of my all time favorite holiday dishes. The last two years, I've made mine without cream of mushroom condensed soup. Instead, I use milk (or a non-dairy alternative) and Lipton's French Onion Soup mix. Yum!
---
Back to top of Easy Vegetarian Recipes
Home | Easy Vegetarian Recipes