Simple Vegetarian Recipes for Every Cook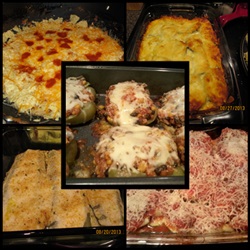 Need simple vegetarian recipes that are simple enough to get you through the week without hours in the kitchen? Check out a complete list of all our recipes below for some quick and easy solutions to almost any meal.
You will find everything from stuffed pasta to super simple ehchiladas and healthy snack suggestions.
I am constantly updating this page... it serves as an index for all our recipes! So be sure to bookmark it and subscribe to our blog so you don't miss out on the latest vegetarian recipes and meal planning tips.
I hope you enjoy the tasty vegetarian recipes below as much as we do. I do my best to help you keep things simple in the kitchen so you can spend more time enjoying time with family and friends than you do cooking the meals you share with them.
Vegetarian Meals in 30 Minutes or Less
If you've got half an hour, you've got time for a quick, savory vegetarian meal. Here are some of our favorite dinner recipes.
Simple, Delicious Vegetarian Recipes
If it's simple and savory you're looking for, try some of our favorite easy vegetarian recipes. They are a breeze to make and they taste like you've spent hours in the kitchen.
Easy Vegetarian Mexican Recipes
Splurge on some of these super savory, vegetarian Tex-Mex meals. Some of these are too good for even your meat eating friends to ignore. I get a lot of recipe requests when I take any of these for a potluck at work.
Easy Dinner Recipes for Tasty Weeknight Meals
Check out some of these easy dinner ideas and cook up something wonderful for those weeknight meals that you just don't have the time or energy for at the end of the day. These will have the whole family coming back for seconds.
Share YOUR Recipe on TSV
Do you have a particularly yummy vegetarian recipe you'd like to share on TheSavoryVegetarian.com? Maybe you have cooking tips or nutritional advice for anyone just getting started on their vegetarian journey or considering the possibility of a meat-free lifestyle?
Click this link to share them. Your recipes, tips and advice will be posted on our blog for other visitors to read.
Back to the top of Simple Vegetarian Recipes
Home | Simple Vegetarian Recipes