Cold Pasta Salad Recipes Your Family
Will Beg You to Make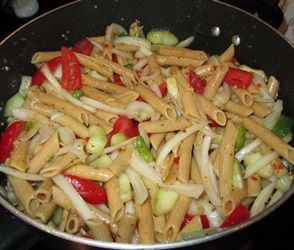 No matter the time of year it is, we never tire of cold pasta salad recipes... as long as they are delicious and have plenty of variation in the ingredients, that is.
If you enjoy cold pasta salad too then this page is just for you!
In an effort to help you stock your recipe collection with all types of tasty vegetarian pasta salad variations and easy dressing recipes, we're adding all our favorites here.
You'll find everything from super simple cold pasta you can make with a box of Simply Pasta Salad from Wal-mart and a few extra veggies to vegetable packed, fully homemade (except for the noodles) cold pasta masterpieces you'll eat again and again.
These make great lunch and dinner recipes and they're easy to pack on the go meals for you or the kids. Most of what you find here will make more than enough to feed a large family or provide meals for at least a couple of days for a small one.
Add YOUR Cold Pasta Salad Recipes to TSV
Do you have a particularly yummy cold pasta salad you'd like to share on TheSavoryVegetarian.com? Maybe you have cooking tips or advice on how to prepare a pasta dish the whole family will love?
Click this link to share them. Your recipes, tips and advice will be added to this page and posted on our blog for everyone to read.
We hope you enjoy the following cold pasta salad recipes as much as we do. Be sure to come back and let us know what you think about the ones you try. Your feedback and suggestions are always welcome.
We update this page a lot, so don't forget to add it to your favorites and subscribe to the Vegetarian Recipes Blog for more scrumptious pasta salads and other great meal ideas.
---
Sweet and Sour Cold Pasta Salad Recipe
What You'll Need for This Recipe:

1 16 oz. package spiral noodles
Chopped green onions, to taste
1 c grape tomatoes, halved & seeded
1 cucumber, peeled, seeded, & chopped
1 green bell pepper, chopped
2 Tbsp. minced parsley (fresh or dried)
Shredded carrots, to taste (optional)
1c part skim mozzarella, shredded

Dressing Ingredients:

1 1/2 c sugar
1/2 c rice wine vinegar
1 Tbsp. ground mustard
1 Tsp. salt
1 Tsp. garlic powder
Yield: 10 servings
Nutrition Facts:
231 calories, 3g fat, 46g carbohydrates, 8g protein
How to Prepare Sweet and Sour Pasta:
Cook the noodles according to the package instructions.


Chop your vegetables, and get them ready to add to the cooked noodles.


Drain your noodles and rinse them with cold water.


In a large serving bowl, mix the noodles with green onions, tomato halves, cucumbers, green peppers and parsley. Set aside.
How to Prepare the Dressing:
In a medium saucepan, combine the sugar, rice wine vinegar, ground mustard, salt and garlic powder.


Cook over medium-low heat for about 5-10 minutes, until the sugar is thoroughly dissolved. Pour over your cold noodle mixture and toss coat.


Once coated thoroughly, cover and refrigerate it for about 2 hours to allow the entire dish to get good and cold.
Recipe Notes: Chill the dressing separately and add it when you are ready to serve it. Just be sure to whisk again before adding it to make sure everything is well combined. If it sit too long the ingredients tend to settle to the bottom of the bowl.
A little bit of this dressing goes a long way so be careful not to use too much before you taste it. You can always add more if it's not enough, but using too much can definitely overwhelm the rest of the dish.
Though this dish is best when served cold, you can eat it as soon as you're done putting it together too!
---
Deli-Style Cold Pasta Salad Recipe
What You'll Need for This Recipe:
1, 16 oz. package whole wheat ziti noodles
2 large cucumbers, peeled and seeded
2 large onions, sliced into thin strips
1 medium or large green bell pepper, chopped
2 tomatoes, chopped (or 3 big handfuls of grape tomatoes, halved and seeded)
1, 16 oz. bottle of Italian dressing (zesty or regular)
1 package Garlic and Herb salad dressing mix (found by the salad dressing)
Yield: 10 servings
Nutrition Facts:
244 calories, 12g fat, 31g carbohydrates, 5g protein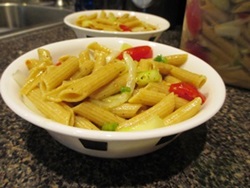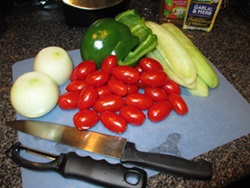 How to Make Deli Style Cold Pasta Salad:
Cook the noodles according to package instructions.


In the meantime, wash and prepare your vegetables as instructed.


Drain and rinse the noodles under cold water, and return to the pan or place it in a large bowl.


Add the cucumbers, onions, green bell peppers and tomatoes.


In a small bowl, whisk together the salad dressing and the garlic and herb seasoning packet. Pour over the noodles and vegetables and mix until well combined.


Cover and refrigerate for at least 1 hour before serving.
Recipe Notes: This is our #1 pick for cold pasta salad recipes! It is wonderful served alone, but it also goes great with garlic toast, sliced and toasted French bread or your favorite vegetarian soup.
Be sure to give it plenty of time to get cold as it gives the flavors time to set. If you have everything you need, make it the night before you plan on serving it. Short on time? Instead of doing everything, just chop your veggies instead, so they'll be prepped and ready when you are.
---
Cold, Budget Friendly, Simply Pasta Salad Recipe
What You'll Need for This Recipe:
1 box Simply Pasta Salad
1 pre-packaged fresh vegetable medley with broccoli & cauliflower
Grape or Cherry tomatoes, halved and seeded (to taste)
Two big handfuls of fresh matchstick carrots
1/2 yellow onion, thinly sliced or chopped (optional)
1 c, thawed frozen peas... or fresh sugar snap peas (optional)
Yield: 4 servings
Nutrition Facts:
384 calories, 14g fat, 51g carbohydrates, 10g protein
How to Make Super Easy, Simply Pasta Salad:
Cook the noodles according to package instructions.


Drain the noodles and rinse under cold water. Return to the pan or place it in a bowl large enough to hold all your ingredients when mixed together.


Add the broccoli & cauliflower medley, the carrots and the tomatoes. Toss until well disbursed.


Prepare the dressing as instructed on the back of the box. Pour over salad and toss to coat.


Cover and refrigerate for half an hour to get it good and cold or serve it immediately. We'll leave that choice to you. It's delicious both ways.
Recipe Notes: This is our pick for easiest cold pasta salad recipes. It's got no prep work at all unless you want your veggies chopped up instead of in whole pieces.
Aaron and I love to sprinkle with Panko breadcrumbs to give it an extra bit of crunch with every bite. Don't add them until you are ready to serve to keep them from getting soggy.
Top it off with shredded parmesan cheese and serve it with a bowl of your favorite soup for a light and tasty lunch or dinner your friends and family will love.
Back to top of Cold Pasta Salad Recipes
Recommended for You: