Deliciously Healthy Vegetable Stir Fry Recipe
This savory vegetable stir fry recipe is one of our favorite dishes to make for dinner. It's quick, easy and packed with Asian inspired flavor.
Seasoned, stir fry vegetables served over a bed of steamed whole grain rice with a bit of sweet chili sauce to top it off.
Better yet, make your own to toss it in. Simple, healthy and delicious.
We've included a recipe for our favorite vegetable stir fry sauce at the bottom of this page. Its a little bit sweet and a little bit sour. The perfect combination for a simple vegetable stir fry recipe like this one.
Easy Vegetable Stir Fry with Frozen Veggies
What You'll Need: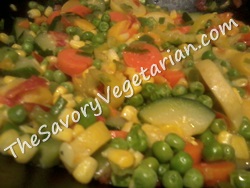 Squash, sliced or chopped
Zucchini, sliced or chopped
Green onions, chopped
Sweet Corn, optional
Green Peas
Green Peppers, chopped
Red Peppers, chopped
Tomatoes, seeded and chopped
Banana Peppers to taste
Brown Rice
Sweet chili sauce, to taste
Vegetable Stir Fry Recipe Instructions:
Prepare the rice according to package instructions. We generally steam ours in the rice cooker. Best. Rice. EVER! And perfect every time.



Meanwhile, heat a tablespoon of oil in a large skillet. Add the green onions, green peppers, banana peppers and red peppers. Saute for about 2 to 3 minutes, until fragrant.


Stir in the squash, zucchini, tomatoes, sweet corn and peas.


Cook until the vegetables are tender and heated through, stirring frequently to prevent overcooking.


Pour in sweet chili sauce to taste and toss to coat. Serve over warm brown rice and enjoy!
Yield: 8 servings
Nutrition Facts:
194 calories, 2g fat, 44g carbohydrates, 5g protein
Mix and match the protein and vegetables you use to get your family interested in tasty new flavor combinations. Try adding some:
Prepared tofu
Almond Slivers
Edamame
Soy crumbles
Cheese crumbles
Eggs
Avocado
Chopped red or yellow onions
Eggplant, chopped
Snow Peas
Carrots
Chopped fresh spinach
Black olives
Broccoli
Cauliflower
Asparagus
Chopped cabbage
Green beans
---
Flavor this Vegetable Stir Fry Recipe with a Homemade Sauce:
2-3 Tbsp. Honey
1/2 C Vegetable Oil
1/4 C Rice Wine Vinegar
1 Tbsp. Soy Sauce
Whisk together all ingredients until well blended. Pour it into your finished vegetable stir fry recipe and toss to coat. Serve warm.


Note: If you like your dressing sweeter, you can replace the honey with about 1/2 c white sugar. Because we make this so often, we use honey instead of the sugar to keep it a little more on the healthier side.
---
Vegetable Stir Fry Tips:
Cider vinegar can be used in place of the rice wine vinegar
If you have left over sauce, whisk it well or put it into a spill proof container and give it a good hard shake to blend it back up before eating.
Use about a Tbsp. of sesame oil to give this sauce a slightly nutty flavor
It's better to err on the side of caution when adding the soy sauce, or get low sodium soy sauce instead. Even a slight bit too much soy sauce can make this recipe too salty. Put in half, mix it up and give it a taste test before adding the rest. You may realize you don't need it.
---
Back to top of Vegetable Stir Fry Recipe
Recommended for You: