Super Creamy Stuffed Pasta Shells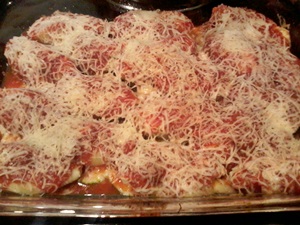 If you love a good pasta dish, these ricotta and spinach stuffed pasta shells are simple and full of creamy deliciousness.
Pasta is a favorite at our house, so when I make it, I make a lot of it and it generally doesn't last very long.
For these, I chose spinach and ricotta for the filling because it's easy and super creamy... and it pairs really well with pasta.
While it takes a little bit of prep work to stuff your shells, you can generally have this dish on the table in about thirty to thirty-five minutes if you use your time wisely.
Stuffed Spinach & Ricotta Pasta Shells:
What You'll Need:
20 large shell pasta
2 - 2 1/2 cups chopped fresh spinach
15 oz ricotta cheese
Italian seasoning, to taste
Garlic salt or powder, to taste
1 small zucchini, thinly sliced
1/2 jar spaghetti sauce
2 cups shredded mozzarella or parmesan cheese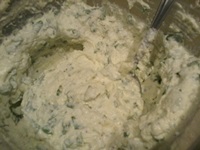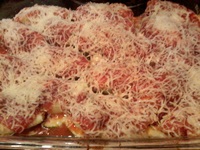 How to make stuffed pasta:
Preheat the oven to 350 degrees.


Cook pasta shells according to package instructions.


While the pasta is cooking, mix together the chopped spinach, ricotta cheese, Italian seasoning and garlic.


Spray a large baking dish with nonstick cooking spray. Spread the sliced zucchini over the bottom of your baking dish.


Drain the pasta and set aside. Spoon your filling mixture into the shells until they are stuffed to your liking and place them on top of the zucchini layer in your dish.


Spread the sauce over the top of your stuffed shells and sprinkle a little more garlic.


Top it off with shredded cheese and bake for about 15 to 20 minutes... until the filling is heated through and the cheese is melted. Enjoy!
Yield: 10 servings
Nutrition Facts:
301 calories, 1g fat, 51g carbohydrates, 18g protein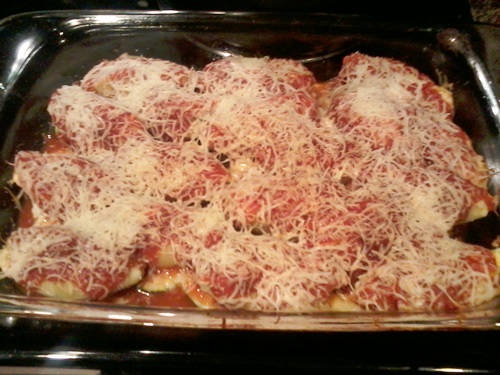 Back to top of Stuffed Pasta Shells
Recommended for You: