Quick-n-Easy Vegetarian Stuffed Peppers
Need a recipe for quick and easy vegetarian stuffed peppers? I threw these together for dinner the other night and they were fantastic!
They're inspired by the flavors in most traditional stuffed pepper recipes and they turn out perfectly tender each and every time.
Hearty Vegetarian Stuffed Peppers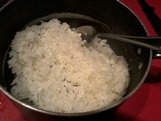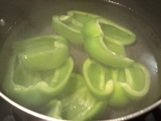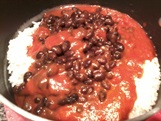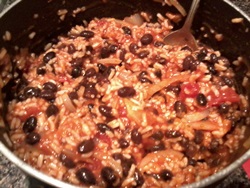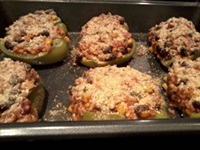 What You'll Need:
3 large bell peppers
1 can black beans, drained & rinsed
1 1/2 tsp salt (optional)
1 1/2 c white or brown rice
1 c V8 juice or spaghetti sauce
Italian breadcrumbs, to taste
1/2 c frozen corn
Chopped or sliced onions
Shredded mozzarella, to taste
Instructions:
Cook rice according to package instructions.


In the meantime, wash and prep your bell peppers by cutting off the tops, cutting them in half lengthwise and removing all the seeds.


Fill a large pot with enough water to cover your peppers. Toss in half the salt and bring the to a boil.


Add all 6 bell pepper halves to the pot and boil for approximately 15 minutes, until tender.


Drain the water and lay the peppers on a paper towel to dry.


In a saucepan, mix together beans, the rest of the salt, the V8 juice or sauce, the chopped onions and the rice. Bring to a boil, cover and remove from heat.


Spray a large baking dish with non-stick cooking spray.


Place your peppers into the baking dish and spoon enough of the bean and rice mixture into each pepper to fill it completely, but not so much it overflows. 3-4 good spoonfuls should do it. Sprinkle with Italian breadcrumbs.


Cover with foil and bake at 375 degrees for 25-30 minutes, until filling is heated through. Remove from the oven. Top with cheese and bake for another 15-20 minutes, until the cheese is completely melted.
Yield: 6 servings
Nutrition Facts:
228 calories, 5g fat, 30g carbohydrates, 14g protein
Stuffed Pepper Recipe Tips:
Boiling your peppers before you stuff and bake them cuts way back on the cook time for this meal. If you don't boil them first, you're looking at a good 2-4 hours of bake time! Who has time for that?
Use quinoa instead of rice for a protein packed filling that is wholesome and satisfying.
If all you have on hand is plain old tomato sauce, use that instead. I just throw in a bit of Italian seasoning and some garlic powder to add a bit more flavor to it before mixing it into the filling.
---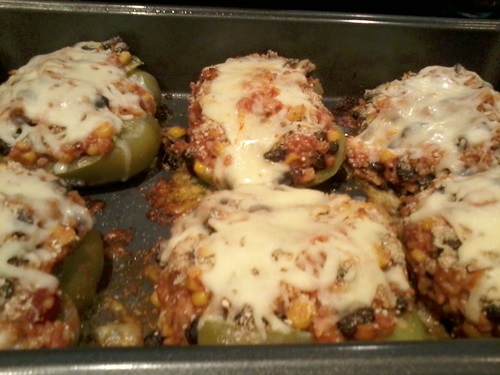 Back to top of Vegetarian Stuffed Peppers
Recommended for You: