Easy Vegetarian Barbecue Sandwich Recipe
If you're a fan of super simple, this barbecue sandwich recipe will definitely make you smile. It takes no time at all to throw it together and it's full of that tasty barbecue flavor we all love so much.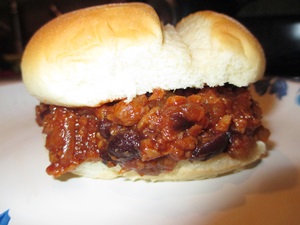 The only prep work involved is cutting up an onion and slicing a bit of celery, the rest involves throwing it in the skillet and heating!
I adapted this recipe from an old barbecue chicken sandwich recipe I used to make back in our meat eating days and I must say, I would prefer this version to that one even if I still ate meat.
It's also fairly healthy compared to other traditional BBQ sandwich recipes which only adds to the appeal of preparing it veggie style.
Whenever I make these, Aaron always overeats. I think the last time we ate them he had 4 sandwiches! And he didn't even put ketchup on them, which is amazing in and of itself because he eats ketchup on just about everything.
Simple Vegetarian Barbecue Sandwiches
What You'll Need: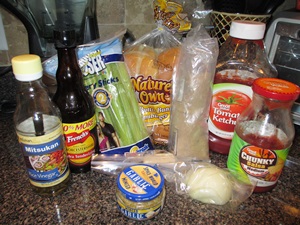 1/2 yellow onion, chopped
1/2 c diced celery
1 tsp minced garlic
1 tbsp butter
1/2 c chunky salsa
2/3 c ketchup
2 tbsp brown sugar
2 tbsp rice wine vinegar
1 15 oz can black beans
1 1/2 tbsp Worcestershire sauce
1/2 tsp chili powder
1/4 tsp salt
1/8 tsp pepper
1 bag frozen soy crumbles
6 hamburger buns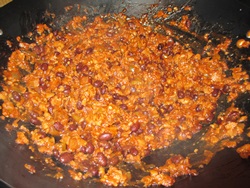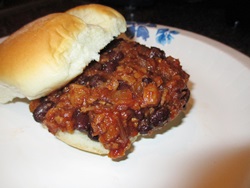 How to Make a Vegetarian BBQ Sandwich:
In a skillet, cook the soy crumbles, beans, butter, onion, celery and garlic on medium heat until the crumbles are heated through and the veggies are tender.


Stir in the salsa, ketchup, brown sugar, vinegar, Worcestershire sauce, chili powder, salt and pepper. Stir the mixture until it is well coated.


Bring to a boil, reduce heat and simmer for about 15 minutes. Taste it... if it isn't quite the BBQ taste you wanted, add a touch more Worcestershire, ketchup, brown sugar and vinegar. Stir well and simmer another few minutes to allow the flavors to blend.


Toast the hamburger buns, top each with a good helping of the barbecue mixture and enjoy your vegged out BBQ sandwich!
Yield: 8 servings
Nutrition Facts:
265 calories, 5g fat, 37g carbohydrates, 18g protein
Vegetarian Barbecue Sandwich Recipe Tips:
Try putting your BBQ mixture into a flat bread such as Joseph's lavash style bread and topping it with a bit of cheese for a delicious veggie barbecue sandwich wrap. I love taking leftovers for lunch like this. Heat your BBQ up in the microwave at work and everyone in the kitchen will want to know you what you're having.
Serve your favorite tortilla or Frito style chips in a bowl, topped with a healthy serving of BBQ, a bit of shredded cheese and some green onions for a tasty bowl of vegetarian barbecue nachos. YUM!
---
How to Make This Barbecue Sandwich Recipe Vegan:
Use the following recipe substitutions to make a completely vegan barbecue sandwich you won't forget!!
Omit the butter
2 tbsp Florida Crystals Organic sugar cane (or other vegan sugar)
1 1/2 tbsp Vegan Worcestershire sauce (such as Annie's Naturals)
6 vegan buns (such as Cobblestone Mills Onion Rolls)
Follow the recipe instructions as directed above and enjoy.
---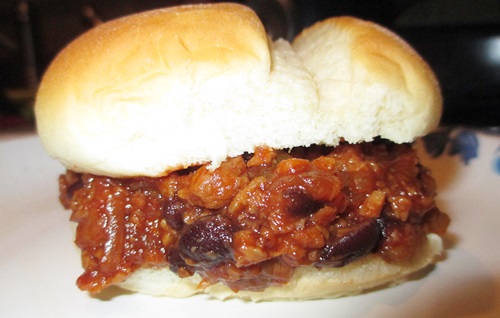 Back to top of Vegetarian Barbecue Sandwich Recipe
Recommended for You: