Super Easy Macaroni and Cheese
Casserole Recipe
This super easy baked macaroni and cheese casserole is a kid friendly classic. We made ours with wide egg noodles but you can go traditional and use macaroni noodles or substute pretty much any type of noodles you like.
Aside from being a family favorite, it's cheap to make, it can be easily adjusted for a crowd of any size and it can be served as a main dish or a side dish.
Just mix some cooked and seasoned soy crumbles or a can of your favorite beans in with the noodles and cheese before spreading it into your casserole dish to make it a hearty, all-in-one meal.
Check out some of our macaroni and cheese recipe tips to see how versatile this casserole is. You can make a more adult version; keep it strictly kid friendly or make something in between that everybody will love.
Baked macaroni and cheese is one of those easy dinner recipes you can make any night of the week that tastes delicious with very little effort on your part. And your family will thank you for making it. Enjoy.
Baked Macaroni and Cheese Recipe
What You'll Need:
1 package wide egg noodles (or macaroni)
1/4 c butter, cubed
1/8 c all purpose-flour
1 tsp. garlic powder
1 tsp. onion powder
2 cups soy milk (any will work)
1 pound Velveeta cheese, cubed
Breadcrumb Topping:
1/2 c dry Italian bread crumbs
2 tbsp. melted butter or margarine
Macaroni and Cheese Casserole Instructions:
Cook the egg noodles (or macaroni) according to package instructions, drain and set aside.


In a large sauce pan or a Dutch-oven melt 1/4 cup butter. Add the garlic powder, onion powder and flour. Stir until smooth then gradually add the soy milk. Bring the mixture to a boil and cook until thickened, about 2 minutes, stirring constantly.


Add the Velveeta and stir until melted. Add the noodles and stir until completely coated.


Transfer to a greased 2 quart casserole dish and set aside.


Melt 2 tablespoons butter, and then stir in the breadcrumbs until crumbly. Sprinkle over the macaroni mixture and bake uncovered for about 30 minutes, until the topping is golden brown.
Yield: 9 servings
Nutrition Facts:
458 calories, 22g fat, 49g carbohydrates, 19g protein
Macaroni and Cheese Recipe Notes and Tips:
To make a crunchier topping for your macaroni and cheese casserole, use Panko breadcrumbs instead of Italian, or mix the two together before sprinkling it on top.
If your kids are particular about what they will and won't eat, this tastes just like macaroni and cheese, but you can easily substitute macaroni noodles (or any other type) in place of the egg noodles.
You can even go one step further and mix in some pre-cooked and sliced vegetarian hot dogs to make baked macaroni and cheese your kids will beg you for!
If you are trying to come up with something to take for a family get together or potluck, this casserole can be easily adjusted for a larger crowd and it's always a hit.
Mix in a little pre-cooked quinoa or soy crumbles before spreading it into your casserole dish to add more texture and protein.
Make your macaroni and cheese casserole spicy by using Mexican style Velveeta in place of the original or throw in a can of drained ro-tel tomatoes instead.
---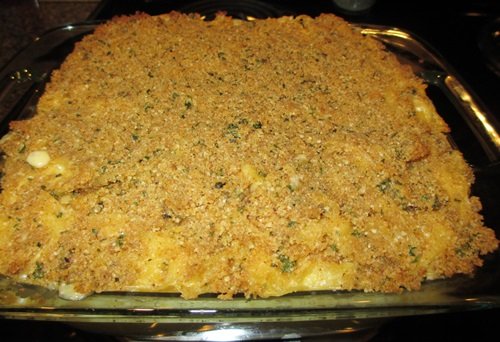 Back to top of Macaroni and Cheese Casserole
Recommended for You: