Easy Vegetarian Shepherds Pie Recipe
This vegetarian shepherds pie recipe is one of our favorites. It puts a fresh new spin on the traditional shepherds pie that we're sure your family will love.
Vegetarian hepherds pie is super easy to make using frozen or fresh vegetables, it bakes in less than 30 minutes and it's full of creamy mashed potatoes. The ultimate one dish vegetarian meal!
You can choose to keep your shepherds pie traditional or add of your own favorite vegetables and give it an updated spin. We used soy crumbles in place of the beef in ours, but it is just as delicious with beans too.
You will love the versatility of this recipe. There are so many ways you can change it up without having to be fancy feet in the kitchen.
Add flavor to the potatoes with your choice of seasonings, mix and match the filling, use a hot cheese instead of cheddar to give it a spicier flavor... the possibilities are nearly endless.
How to Make Vegetarian Shepherds Pie
What You'll Need:
1 1/4 lb red potatoes, cut into chunks
1 1/2 tsp. minced garlic
3/4 c sour cream
1 c shredded cheddar cheese
1 package frozen soy crumbles
2 tbsp. flour
4 c mixed vegetables
3/4 c vegetable broth
2 tbsp. ketchup
Shepherds Pie Recipe Instructions:
Preheat the oven to 375 degrees.


Cover the potatoes and garlic with water in a large saucepan. Bring it to a boil, reduce heat and simmer for about 20-25 minutes, until the potatoes are tender. Drain the potatoes, return to the pan and stir in half the shredded cheese.


Add sour cream and mash to your desired consistency... if they are a little too thick, add in a bit of soy milk, about 1/4 c at a time or another 1/4 c sour cream, to make them creamier.



Cook the soy crumbles in a large nonstick skillet until heated through. Stir in the flour. Cook for another minute and add the vegetables, vegetable broth and ketchup.


Cook for an additional 5 minutes, then spoon the mixture into an 8 inch square baking dish.


Cover with mashed potatoes and bake, uncovered for about 20 minutes.


Sprinkle the remaining cheese on top and bake for 5 minutes, until the cheese is melted and the dish is heated through.
Yield: 9 servings
Nutrition Facts:
229 calories, 6g fat, 30g carbohydrates, 16g protein
Shepherds Pie Recipe Tips and Notes:
Vary the vegetables you use to give the classic shepherds pie a bit of an updated flare.
I've used carrots, bell peppers, green and yellow peppers, tomatoes, celery, green beans, sliced squash, sliced zucchini and onions. Get creative and mix and match your favorites... it tastes great with just about anything!
Keep the topping on your shepherds pie from tasting too bland by stirring in a package of ranch dressing mix after you mash the potatoes. This gives the whole dish an extra burst of flavor that brings it over the top.
---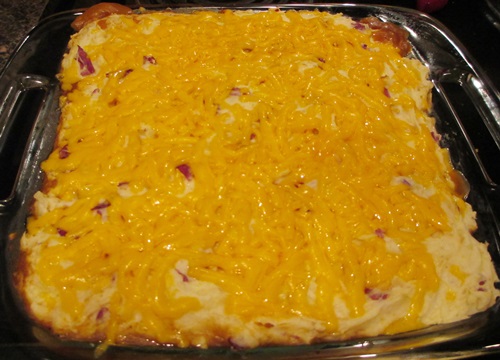 Back to top of Vegetarian Shepherds Pie Recipe
Recommended for You: