Vegetarian Quiche Recipe - Soft Fluffy Goodness the Whole Family Will Crave
This vegetarian quiche recipe is packed with veggie goodness and lots of nutritional value. This is a new Saturday favorite. Whip it up, throw it in the oven, put some coffee on and get your day started off right.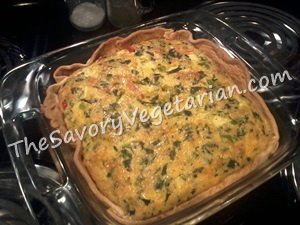 You can use chopped fresh veggies or frozen, whatever you prefer. I used a little bit of both... frozen green peppers and spinach and fresh red peppers, green onions and zucchini.
Once I mixed it all up, I had so much that a pie pan wouldn't have been big enough to contain it in the oven, hence the casserole dish. ;-)
This is such a savory recipe that it practically melts in your mouth. It's soft, moist, fluffy and absolutely delicious.
In addition, there are a more than a few low-fat and non-dairy alternatives you can use to replace many of the traditional quiche ingredients. Low fat milk, soy milk and almond milk can all be substituted for the heavy cream.
Veggie Packed Vegetarian Quiche
What You'll Need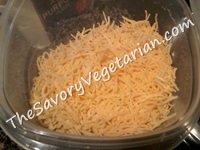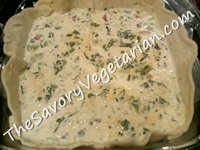 1 refrigerated pie crust
Pam vegetable oil spray
3/4 c green onion, chopped
1 c fresh zucchini, chopped
1/2 c green bell pepper, chopped
1/2 c red bell pepper, chopped
1c heavy whipping cream
1/4 tsp dried ground oregano
1/4 tsp dried ground basil
6 eggs
1 c chopped spinach
2c mild shredded cheddar cheese
2 Tbsp flour
Salt and pepper to taste
Instructions
Preheat the oven to 350 degrees.


Wash your vegetables, chop them and set them aside.


In a medium sized bowl, beat the eggs. Blend in your prepared vegetables and mix well.


In another medium sized bowl, mix together your cheese and 2 tablespoons flour. Add to the egg and vegetable mixture and mix well.


Stir in the heavy whipping cream until well blended.


Spread your crust over the bottom of a 9x9 casserole dish and press into the pan. Pour the egg mixture into the crust and spread evenly.


Bake for about 1 hour, until crust is lightly browned and eggs are cooked through. To check how well cooked your quiche is, insert a knife into the very center. If it comes out clean your quiche is done.


Cool for about 10-15 minutes and serve.
Yield: 8 servings
Nutrition Facts:
327 calories, 21g fat, 20g carbohydrates, 17g protein
Use the following substitutions to lower the calorie, fat and carb content for a healthier version of this recipe:
2 Tbsp whole grain flour
2 c 2%-reduced fat mild shredded cheddar cheese
1 1/2 c egg substitute
1 c soy or almond milk
1 c low fat or fat free milk
Yield: 8 servings
Nutrition Facts:
256 calories, 14g fat, 19g carbohydrates, 17g protein
---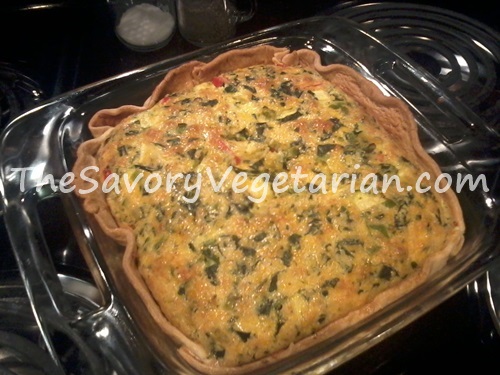 Back to top of Vegetarian Quiche Recipe
Recommended for You: