Delightfully Simple Veggie Burger Recipe
This super easy veggie burger recipe puts a fresh, meat free spin on a hamburger. They're light, filling and packed with so much vegetable and protein goodness that your family won't even notice there's no meat!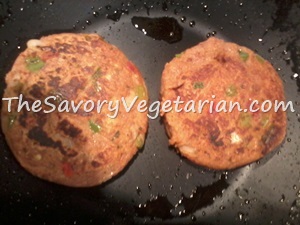 This is one of the best veggie burger recipes. You can swap out so many of the ingredients in this recipe the possibilities are endless. And they've got more flavor than any of the frozen variety I've ever eaten.
They are wonderful for lunch or dinner, and they are great crowd pleasers... even if many of your friends and family are meat eaters. Serve them up on whole wheat buns with all your favorite burger toppings and you've got a hearty, veggie burger that is healthy and delicious.
Easy Veggie Burger Recipe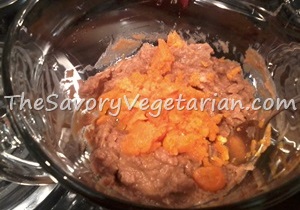 What You'll Need:
1/2 cup canned carrots
1 15 oz can black beans
1/2 c chopped onion
1/2 c chopped green pepper
1 1/2-2 c thick, chunky salsa
1 c Italian bread crumbs
1/2 c whole wheat flour
1 tsp chili powder
Cook a Veggie Burger Patty Thats Full of Flavor
Mash the carrots and the beans together in a large bowl. If using refried beans, mash the carrot first, then mix it into the beans until well blended.


Stir in the green peppers, onions, bread crumbs and whole wheat flour.



Add the first 1 1/2 cups salsa and mix until well blended.


If the mixture is too soft, add a bit more flour. If it's a little too stiff, add the last 1/2 cup salsa and mix well.


Season with the chili powder.


Form into patties the size of your palm and set aside.


Coat a large skillet with cooking spray or coconut oil and cook the veggie patties for 6-8 minutes on each side until they are firm and nicely browned.
Yield: 6 servings
Nutrition Facts:
181 calories, 3g fat, 38g carbohydrates, 9g protein
Veggie Burger Cooking Tips and Notes:
The larger you make your veggie patties, the easier they will fall apart when you are cooking and eating them.
If you want a spicy burger, add 1/4 to 1/2 tsp ground black or cayenne pepper. If you can't take super spicy, you probably want to leave the pepper out.
Using frozen vegetables makes this veggie burger recipe a breeze to prepare. It makes no difference in the taste whether you use fresh or frozen.
I almost always use the frozen veggies I have on hand to make these and they turn out delicious every single time.
You can swap out the green bell peppers and chopped onions for 1 cup of mixed, chopped frozen vegetables to make preparation even quicker.
This recipe works best when you use a thick, chunky salsa, like Pace or something similar.
If you use a runnier salsa, add it 1/2 c at a time to make sure your finished mixture isn't too soft to form into decent patties.
These go really well with Sara Lee whole wheat buns and a bit of roasted red pepper hummus in place of the traditional ketchup or mayo topping.
Back to top of this Veggie Burger Recipe
Recommended for You: