Uber Easy Vegetarian Mexican
Casserole Recipe
Are you a fan of Mexican inspired meals? Then this Mexican casserole recipe is a must have in your recipe collection. It's loaded with all your favorite Tex-Mex ingredients and layered to perfection with a cheesy, creamy goodness that will knock your socks off.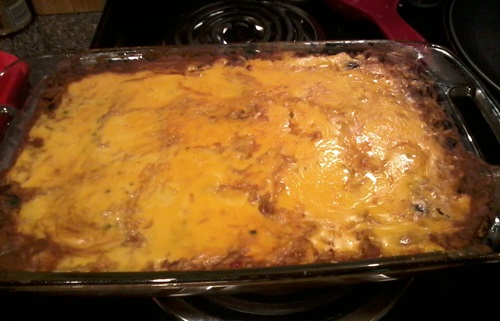 And the best part of all? It's so easy to make it's almost effortless.
Whether you are browsing for a tasty Meatless Monday recipe the whole family will love, in the mood for a savory vegetarian home cooked meal or entertaining meat eating friends, this recipe is the perfect choice.
Serve like a traditional Mexican casserole, topped with a dallop of sour cream or your favorite salsa, eat it like a gourmet Mexican-style dip with your favorite tortilla chips or roll it up in a tortilla and make a hearty burrito out of it.
No matter how you dish it up, everyone will want your delicious Mexican casserole recipe!
Savory Vegetarian Mexican Casserole Recipe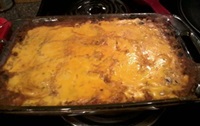 What You Will Need:
2 cans black beans
1 can pinto beans
1 medium onion, diced
1 can Ro-Tel tomatoes
8-10 flour tortillas
8 oz cream cheese softened
1 box Spanish rice, or 2c homemade Spanish rice
8 oz Mexican Velveeta cheese, cubed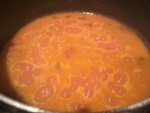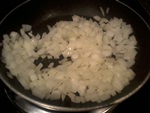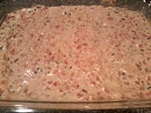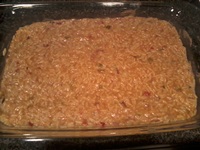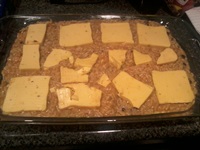 Mexican Casserole Recipe Instructions:
Pre-heat the oven to 375 degrees. Spray a 9x13 bake dish with vegetable oil spray. Set aside.


Cook Spanish rice according to package directions. When the rice is almost finished, heat a bit of vegetable oil spray in a skillet and saute your chopped onions until they are tender and fragrant.


In a large bowl, combine the black beans, pinto beans, onion and softened cream cheese or soup. Mix until well combined.


Spread half the tortillas over the bottom of your baking dish. You can leave them whole or tear them into pieces... it's delicious both ways.


Next, layer on half the bean mixture, half the ro-tel, half the rice and half the cheese. Repeat layers once more, finishing off with the last of the Velveeta.


Cover with aluminum foil and bake for about 1 hour, until the cheese is completely melted and bubbling.
Yield: 10 servings
Nutrition Facts:
398 calories, 17g fat, 50g carbohydrates, 16g protein (10 svgs)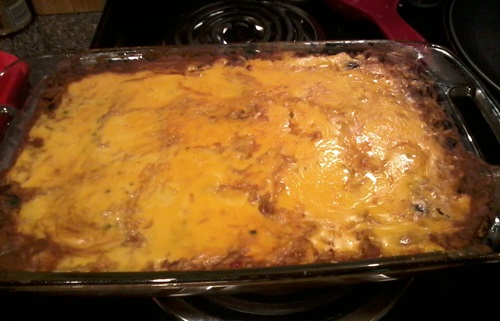 ---
Mexican Casserole Tips, Notes and Substitutions
This recipe can be easily halved or doubled, and it re-heats well. It's the perfect dish to take for a potluck at work or family get together.
Mission whole wheat tortillas or Mama Lupas low carb tortillas are a great substitute for white flour tortillas in this recipe. You can't tell a difference in the taste, and both of these bake well without getting to tough or chewy.
Make a batch of homemade refried beans to spread over the tortilla layers. Instead of adding the pinto beans to the cream cheese, tomato and black bean mixture, cook them up separate, mash them with a fork and season with minced garlic to taste, 1 tsp each of onion powder, garlic powder and cumin and 1 1/2 tsp chili powder.
Serve garnished with avocado slices or a batch of homemade guacamole. A nice dallop of guac on top makes all the difference when serving this recipe. Especially if you go the homemade route. Absolutely scrumptious.
Substitute shredded taco cheese or your favorite salsa con queso instead of using Velveeta to cut down on the prep work. If you don't do dairy, use soy shreds instead to make a dairy free version.
Use a can of cream of mushroom or cream of celery soup instead of cream cheese. Either of these work just as well to give the casserole a creamy, melt-in-your-mouth texture.
---
Lowfat Mexican Casserole Recipe
Indulge in this dish without the extra fat and calories of the original recipe by making the following simple substitutions. Cut the fat by more than half and save yourself over 120 calories per serving!
What You'll Need
10 yellow corn tortillas
8 oz fat free cream cheese
Reduced fat Mexican blend shredded cheese
Nutrition Facts:
278 calories, 7g fat, 39g carbohydrates, 17g protein (10 svgs)
---
Vegan Mexican Casserole Recipe
Make the following four substitutions for a savory, vegan friendly Mexican casserole recipe the whole family will love!
What You'll Need
10 Ezekiel sprouted corn tortillas
8oz Vegan cream cheese spread
8oz Vegan soy based cheddar substitute
1 box Near East Spanish Rice Pilaf
Nutrition Facts:
333 calories, 11g fat, 38g carbohydrates, 10g protein (10 svgs)
Back to the top of Mexican Casserole Recipe
Recommended for You: