Vegetarian Mexican Lasagna Recipe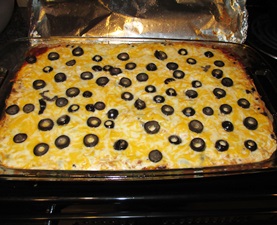 Do you love Mexican and Tex-Mex food? Then you don't want to miss this vegetarian Mexican lasagna recipe.
It's layered with creamy, cheesy Tex-Mex inspired ingredients and baked like a traditional lasagna, though you won't find any noodles to speak of.
Instead you use your favorite style tortillas between creamy, melt-in-your mouth layers that are packed with Mexi-liciousness.
The first time I tried this recipe out on my meat-eating co-workers it almost disappeared by the end of the day. Everyone loved it so much they wanted the recipe. And a few of them didn't even realize it was meatless!
No matter who you're cooking for, this is one of those crowd pleasing recipes you just can't go wrong with. Kids, picky eaters and meat eaters alike will no doubt beg you to make your tasty version of this Mexican lasagna again and again.
Enjoy!
Easy Mexican Lasagna Recipe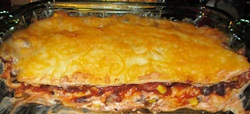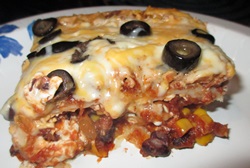 What You'll Need:
6 medium flour tortillas (or 8-10 corn)
8 oz sour cream
8 oz cream cheese, cut into small chunks
Shredded taco style cheese
1 package taco seasoning
1 small can sliced black olives
1 15 oz can diced tomatoes
1 15 oz can black beans (drain and rinse)
1 jar salsa (chunky works best)
1 yellow onion, chopped
Non-stick cooking spray (or 1 tbsp oil)
Vegetarian Mexican Lasagna Instructions:


Preheat the oven to 375 degrees.


Coat a medium skillet with non-stick cooking spray or heat 1 tablespoon vegetable oil on medium heat. Add the onions and saute until tender and fragrant.


Add the beans and seasoning and cook for about 10 minutes, or until well combined. Stir in the tomatoes and cook for another 5 minutes. Remove from heat and set aside.


Coat a 9x11 inch baking dish with non-stick cooking spray. Cover the bottom of the dish with a single layer of tortillas and top with half the bean mixture.


Dot the full 8 ounces of cream cheese in an even layer over the beans. Spread a layer of salsa over the top of that, followed by half the shredded cheese and another layer of tortillas.


Add the remaining bean mixture over the tortillas and follow it with the full 8 ounces of cream cheese, spread evenly over the top of the beans.


Spread enough salsa to completely cover the sour cream and top with the remaining shredded cheese.


Sprinkle the sliced black olives on top, cover with aluminum foil and bake for about 45 minutes, until the cheese is melted and bubbly and the lasagna is heated through.
Yield: 12 servings
Nutrition Facts:
419 calories, 24g fat, 39g carbohydrates, 13g protein
Mexican Lasagna Recipe Tips:
If you like your Mexican food spicy, add a layer of jalapeno peppers in the middle or use ro-tel instead of regular diced tomatoes.
Not a fan of black beans? Substitute a can of refried beans instead. You can buy a large can of vegetarian refried beans or make a quick batch of these delicious homemade refried beans.
To make it extra creamy use white queso, salsa con queso or cubed Velveeta in place of the shredded cheese.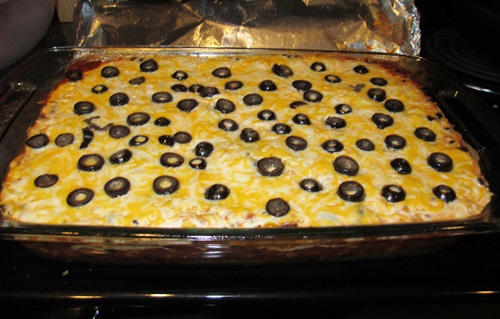 ---
Crockpot Vegetarian Mexican Lasagna Recipe
Aside from chopping the onion and sauteing it, there is not much prep work that goes into the crockpot version of this recipe. Since you aren't using meat you don't really need to pre-cook anything.
What you'll need:
All the ingredients listed above plus a little extra sour cream and some avocado (or guacamole) for garnishing your lasagna.
How to make it:
Saute the onions until tender. Mix in the beans and taco seasoning and salsa. Meanwhile, combine cream cheese and sour cream until smooth.


Spray your crockpot lightly with non-stick cooking oil.


Spoon 1/3 cup of the bean mixture into the bottom of the crock pot and top with a layer of tortillas.


Spread another 1/3 cup of the bean mixture over the tortilla layer, top with a layer of cream cheese and sour cream, tomatoes, black olives and cheese, then add another layer of tortillas.


Repeat these layers until you have used all your ingredients, finishing with shredded cheese and black olives.


Turn the slow cooker on low and cook for 2-3 hours or on high for 1-2 hours.


Garnish with sour cream and avocado and serve. YUM!
---
Low-Fat Vegetarian Mexican Lasagna Recipe
Lighten up your Mexican lasagna with the following substitutions, and enjoy it guilt free. You can cut back on calories and fat content with just a few food swaps your friends and family won't even notice!
What you'll need:
12 yellow corn tortillas
8oz fat free sour cream
8oz fat free cream cheese
2c reduced fat Mexican blend cheese
Yield: 12 servings
Nutrition Facts:
222 calories, 6g fat, 30g carbohydrates, 13g protein
Back to top of Vegetarian Mexican Lasagna Recipe
Recommended for You: