Easy Vegetarian Vegetable Fajitas
If you're in the mood for Mexican food tonight these savory vegetable fajitas are the perfect dish to satisfy your craving.
They're super quick to throw together in a pinch and you can use whatever you have on hand to keep it budget friendly. As long as you have tortillas pretty much anything goes.
We like to use frozen vegetables since we generally have them on hand for those nights when quick and easy is all we have time. Of course fresh vegetables can be just as easy though... if you have a chopper handy to cut back on the prep time. Either way you decide to make them they are super tasty.
Taco, enchilada or fajita style seasonings are all great in this recipe, and black beans, pinto beans or Morningstar Grillers Recipe Veggie Crumbles add great texture and a bit of healthy vegetarian protein to the recipe as well.
You can serve them with a batch of homemade guacamole, your favorite tortilla chips, a bit of salsa and some shredded cheese and sour cream to top them off.
Savory Vegetable Fajitas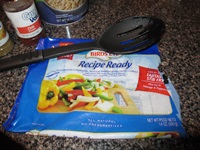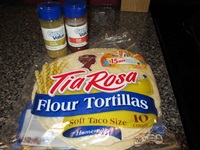 What You'll Need:
8-10 fajita sized flour or corn tortillas
Fajita seasoning (or a make your own)
1 can black beans, drained & rinsed (optional)
Shredded cheddar cheese
Salsa & sour cream for topping
Vegetable Oil or Cooking Oil
1 bag frozen recipe ready fajita vegetables or equivalent fresh vegetables

Need some ideas? A blend of sliced green bell pepper, yellow & red peppers and yellow onions are perfect for fajitas.

If you like them with a little more heat, throw in some chopped jalapenos too.
How to Make Vegetarian Fajitas:
Heat the oil in a large skillet and saute vegetables until tender and heated through.


Stir in the beans, seasoning and about 1/4 cup of water and cook until the mixture thickens and is heated through.


Warm the tortillas in a skillet, a few minutes on each side. Optionally, you can wrap them in wet paper towels covered by dry paper towels and nuke them in the microwave to 15-20 seconds.


Spoon the mixture into the center of the tortillas and top with shredded cheese, sour cream and salsa.
Yield: 10 servings
Nutrition Facts:
223 calories, 4g fat, 40g carbohydrates, 11g protein
How to Make Your Own Taco Seasoning
Mix together the following spices for a simple homemade taco seasoning that tastes so good you'll never buy the packaged stuff again.
1 tbsp chili powder
1/2 tsp garlic powder
1/2 tsp onion powder
1/4 tsp dried oregano
1/2 tsp paprika
1 1/2 tsp cumin
Salt and pepper to taste
Back to top of Vegetarian Vegetable Fajitas
Recommended for You: