Homemade Protein Zucchini Muffin Recipe
This homemade zucchini muffin recipe will take you back to the good old days when grandma used to make them from scratch.
Out of all her tasty desserts, her zucchini bread was my absolute favorite. That love is what inspired me to make this batch of heavenly zucchini muffins.
That said... there are a couple of things I did differently than grandma used to.
I used the blender to really puree the batter


I added enough protein powder to bring each muffin to around 5 grams of protein (for nutritional purposes, of course).
How'd they turn out? Delicious, moist and grandma approved!
Moist & Delicious Zucchini Protein Muffins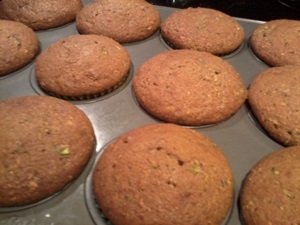 What You'll Need:
3 cups zucchini, grated
2/3 c butter, melted
1 1/3 c sugar
2 eggs, beaten
2 tsp vanilla
2 tsp baking soda
A pinch of salt
3 c all purpose flour
2 Tsp cinnamon
1/2 tsp nutmeg
3 scoops protein powder
Paper muffin cups or a prepared muffin pan
Homemade Zucchini Muffin Directions:
Preheat the oven to 350 degrees.


Combine the sugar, eggs and vanilla in a bowl. To puree the batter, I used a blender instead of mixing it in a bowl. Pulse until well combined.


Stir in the zucchini and then the butter, pulsing well in between to ensure the mixture is well combined.


In a separate bowl, mix the flour, baking soda, nutmeg, protein powder and cinnamon. Add to zucchini mixture and process until fully blended.


Spray your muffin cups with a bit of non-stick cooking spray to help keep the muffins from sticking too much when you bake them.


Fill each cup about 2/3 full of batter and bake for 25-30 minutes. Until the muffins are nicely browned and spring back when you push lightly on the tops.


Cool for about 10 minutes before removing from the pan. Give them another 10 minutes to cool enough for eating. Enjoy!
Yield: 24 muffins
Nutrition Facts:
170 calories, 7g fat, 25g carbohydrates, 5g protein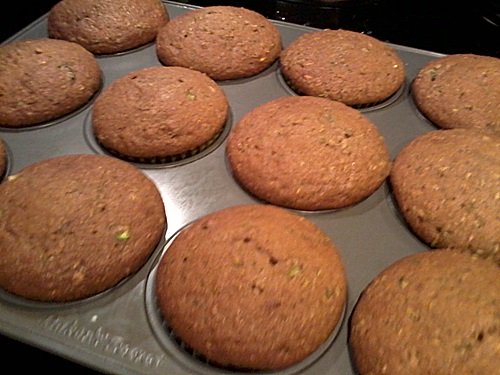 Back to top of Homemade Zucchini Muffin Recipe
Recommended for You: